SON OF A... - March 6th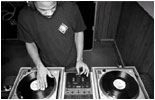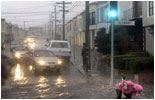 Local Hip Hop legend Kevvy Kev fell victim to last week's floods, losing about $120,000 worth of records and comics when five feet of water paid his basement an unwelcome visit. There's a fundraiser for Kev at the ChiChi Lounge (440 Broadway) tonight, so come out and show your support. For more info check SF EVENTS.



NO REGRETS - March 2nd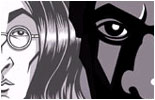 DJ Danger Mouse is quickly becoming a household name. He first came to our attention a couple years ago when he was trying to schlep some promo vinyl to our outstanding corps of hip hop enthusiasts here at Beatplanet in an attempt to further his rep in the music game. Unfortunately for him we are all a bunch of schmucks and didn't lift a finger towards any promotion of this guy even though he is the only one to ever give us anything but a hard time for all the hard work we put into making this site.

So, DM chose a different route to fame in this game...he stole samples from one of the most influential music groups of all time (The Beatles "White Album") and meshed it with acapella raps from one of the most overrated yet commercially successful rappers today (Jay-Z's "Black Album"). Seriously, how the fuck did Jay-Z become such a hip hop icon? Sheeeeit...American Idol reject William "Well" Hung has better stage presence, biatch!

Danger Mouse's appropriately titled "Grey Album" has turned the music world upside down. EMI, who owns the rights to the Beatles samples, immediately sent out a cease and decist order to Danger Mouse and retailers selling the limited pressings of this album, turning it into an instant underground classic with originals going for over a hunge on ebay. Fools are even spending big money for cd-r copies of the album. We here at Beatplanet say fuck paying for a copy, get that shit for free on the net. Or spend all your cash on one of only 3000 originals that were pressed. That shite is a collector's item. If EMI was smart they'd license the music and release the instrumentals on wax.



JUST SAY NO TO A WARM 40 - February 5th
You never know what you're gonna find on the forum over at djanna.com, besides some pulsating pink hearts of course. Forum member SergJuan points us to this priceless "40 oz. beer cooler made with neoprene material for superb insulating value." The only thing worse than a warm 40 is swallowing bong water, so we're stocking up.



MISS JACKSON IF YOU'RE NASTY - February 2nd
Like everyone else watching the Super Bowl halftime show, we were surprised to see Janet Jackson and Justin Timberlake hanging out, but what was even more shocking was hearing her perform Ryhthm Nation. If you're gonna bring back 1989, how about a little Eric B. and Rakim or BDP?

Moving on to some news of actual musical interest, The Roots have started their own label, Okayplayer Records. So what? So they're accepting submissions from unsigned artists to be among the two chosen for a spot on the first album. Check their site for details on how your song could end up on their first release, which will feature The Roots, Aceyalone and Dilated Peoples among others.



NEWS NIBBLERS - January 22nd
The auction for Grand Royal Records is over, and it looks like the top bid of $65,000 didn't meet the reserve price. We'll be on the lookout to see if the record label goes back on the auction block anytime soon.

MF Doom is playing at The DNA Lounge tonight. If you don't make it to the show, you can catch the live audio here and the live video here.

Blackalicious frontman Gift of Gab is set to drop a solo album, 'Fourth Dimensional Rocketships Going Up', sometime in February. You can hear a couple of tracks over at www.solesides.com, which has been going strong for who knows how long thanks to the efforts of joost.

Hip Hop Slam reported last month that Rock Steady Crew president Crazy Legs has signed a deal with Fila to put out a Rock Steady Crew sneaker that will be in stores on April 1. They also mentioned that Mixmaster Mike and the Beastie Boys plan to release their next album this summer. 'Hello Nasty' was alright, but word is that Mike will have a lot of input on the new joint so hopefully the B Boys will be able to bring back that inspirational sound that got me hooked on Hip Hop almost 20 years ago. For those who don't know about Hip Hop Slam, you're missing out so go check it.

Tha Formula has Part 1 of a solid interview with Rakim up on their site.

More Joint Effort clowning is on the way soon, so get ready to be offended, especially if you're Broms, Hopper, or Gary.



FOR SALE: GRAND ROYAL RECORDS - January 16th
There are 5 days left to place a bid on Grand Royal Records, the record label created by the Beastie Boys. The winner obtains the rights to various master recordings, license agreements, recording agreements, distribution agreements, and a wealth of products & merchandise. (Hat tip: Broms)

Current bid: $15,000

BATTLE OF THE SANDOS - January 15th

KICKING IT FAMILY STYLE - January 14th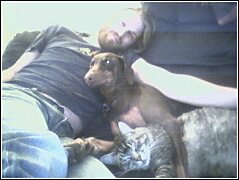 KOZMO MEMORIES - January 10th
We're kickin back thinking of the good old days when you could order a single It's It and have it delivered to your door in about an hour. Or in Shrimp's case, 3 It's It's and a Ben & Jerry's Mint Chocolate Cookie pint.





Speaking of the old days.




Remember when Royle would give you $5 to fill up his water bottle.



LAZY BASTARDS - January 4th, 2004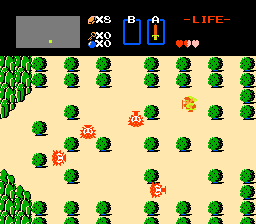 archive